College of Education (B. Ed.)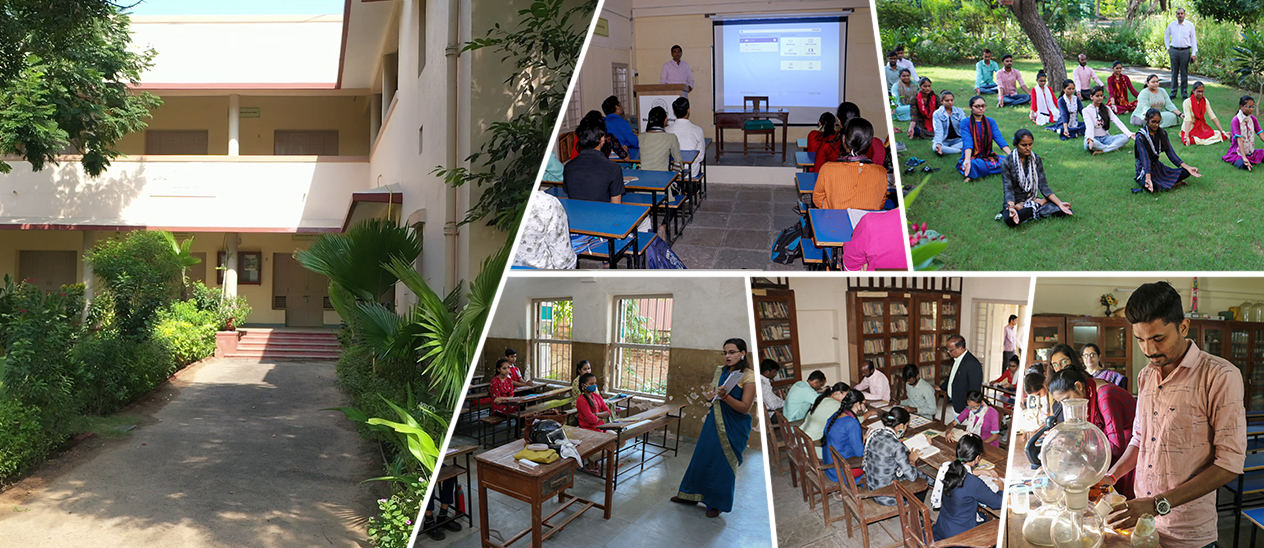 Overview
Established in the year 1964, the College of Education, till the year 2010 known as Graduates' Basic Training College—Basic B. Ed. in other words—is a training college for potential secondary school teachers. A co-ed college since its inception, the Basic B.Ed. curriculum has made its transition to a regular B.Ed. Course with due recognition from the National Council for Teacher Education. Established in the immediate years after India's independence, the teaching-learning is strongly inspired by Gandhian principles of Basic Education and remains so even today. Efforts are made not only to equip students to be efficient and willing public workers but also to possess the will and enthusiasm to render useful community service.
Curriculum
Since the college is affiliated to Gujarat University, it implements the curriculum of B.Ed. course, as prescribed by Gujarat University.
Entire two year B.Ed. course is spread into four semesters. In each semester students study some compulsory papers, teaching methodology of their specific subject and other practical work.
Semester
Paper code and name
1.
A-01, Childhood and Growing Up
A-02, Contemporary India and Education
C-01 Language Across Curriculum
2.
A-03, Knowledge and Curriculum
A-04, Learning and Teaching
C-02, Assessment of Learning
3.
A-05, Gender School and Society
A-06, Creating Inclusive School
C-03, Understanding Self
4.
A-07, Introduction to Educational Research
5.
Any one from the following subjects: Educational Statistics, Guidance and Counselling, Teacher Education, Child Psychology, Indian Education System and Entrepreneureship
The students study General Subjects of Teaching along with the methods like Guajarati, Hindi, English, Social Science, Math, Psychology, Accounts/ Commerce and Science.
Life of students
The society is in the need of trained and efficient teachers who can shape the future generations. And one cannot become that teacher just by getting the degree of B.Ed. The organization constantly keeps trying to provide these students with holistic development in order to make them an efficient teacher by inculcating extra curricular activities with their prescribed course. The principal and teachers keeps giving in efforts so that students become confident and are valued. Uniform of khadi is compulsory during the two years of training.
Admission & Intake
The graduate or post graduate students are eligible to take admission for the course in this college. The admission process is carried out by the centralized admission committee of Gujarat University and admissions are given as per the University guidelines. Each year 50 students are given admission as per the approved intake by NCTE.
Facility of Institution
The college is situated in the nearly 64 acres of the lush green campus of C. N. Vidyavihar. Strong magnificent building provides specious space to each student. We have the following infrastructural facilities for the students.
Principal's office
Admin office
Staff Room
Prayer Hall
Lecturer Rooms
Psychology lab
Audio visual
Computer lab
E.T. lab
Science lab
Library & Reading room
T.L.M. Room
Play ground
Seminar Hall
Art and Craft room
Ladies Room
Counselling Room
Staff Quarters
Hostel
Parking
Garden
Dr. Satishprakash S.Shukla (Chair Person)
Dr. Ajitsinh P. Rana (Member)
Dr. Bharatbhai Joshi (Member)
Dr. Rajendrasinh Jadeja (Educational Advisor)
Dr. Bhagvanbhai N. Patel (Member)
Dr. Vaishali Shah (Director, Sheth C N Vidhyavihar)
Dr. Hareshkumar B. Vadhel (Member Secretary)
Affiliation & Reorganization
Affiliated to Gujarat University
Recognise by NCTE-WRC
Commissioner of Higher Education Gujarat Government