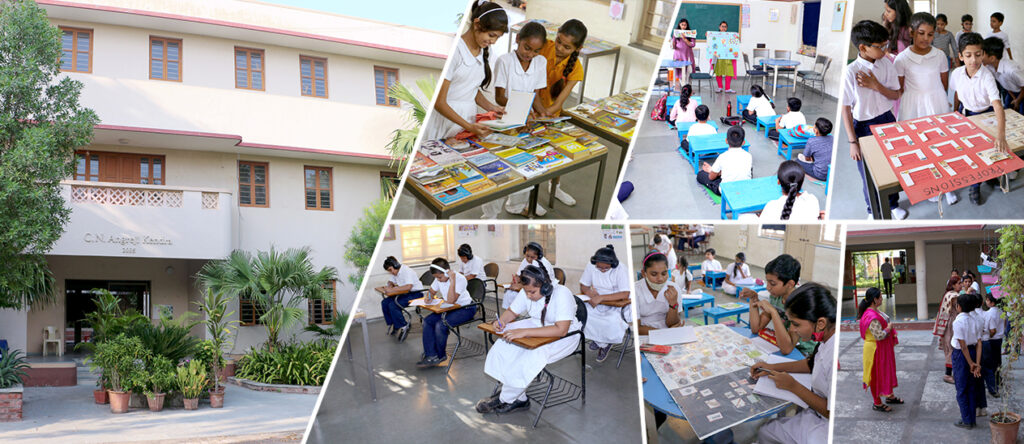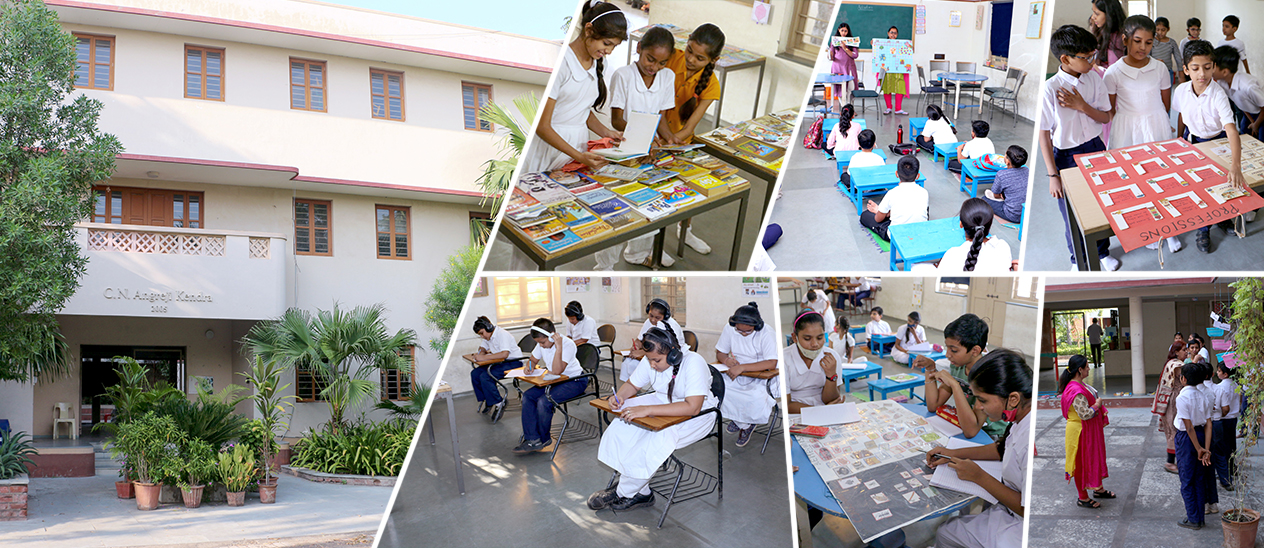 Overview
The C. N. Angreji Kendra (CNAK) was established in 1999, exclusively for the students of C. N. Vidyavihar. The Kendra was born with the vision of creating a generation of students who are equally fluent in both the languages – in other words, students who are good at Gujarati, in which they learn, and can also handle English with ease in real-life situations. More than 5500 students have been trained at the Kendra since then. So far, only C. N. students, their parents and the C. N. staff members were eligible for admission to the Kendra. From June 2013, the Angreji Kendra is open for everyone who is interested in brushing up their English skills.
Objectives of the Kendra
To train the students in English communication skills through a variety of innovative methods and a learner friendly curriculum
To lead students to realising their potential to the fullest
To provide students with a microcosmic experience and opportunities to develop emotionally, socially, ethically and intellectually
To inculcate a habit of reading in students by encouraging those to explore the world portrayed in books
To make the Kendra as a Teacher-Training Institute and a Language Research Centre (Bhasha Kendra) in the future.
The basic features of the Kendra are
Need-based curriculum
Activity-based teaching
Child-centreed classes
Ideal teacher-students ratio
English through English
Emphasis on language usage
Use of technology to learn language
Minimum home-assignments and Continuous assessment
Faculty
Teachers are carefully selected at the Kendra. Though a background in English is considered desirable, neither is it a necessity nor is a B.A./M.A. or B.Ed. accepted as proof of quality and ability. Shortlisted candidates are met 'informally' to get a general idea of their suitability to the position. Following this, they are required to appear for a written test that comprises (i) a test of English and (b) a task-based test in Creative teaching. Candidates, who are successful, are interviewed by a panel comprising the Advisory Committee, the Managing Trustee and the Director. Further, teachers are constantly assessed on (a) the quality of their teaching and (b) the quantum and standard of the materials they produce at the Kendra. Though most teachers have a background in English, the Kendra does have one or two exceptional teachers who are from other fields. All teachers are urged to take a postgraduate qualification in English Language Teaching. To ensure that teachers keep abreast of the latest trends in Language Teaching, the Kendra encourages and sponsors participation in ELT seminars and workshops. The Kendra also procures ELT Resource books and materials for the use of teachers.