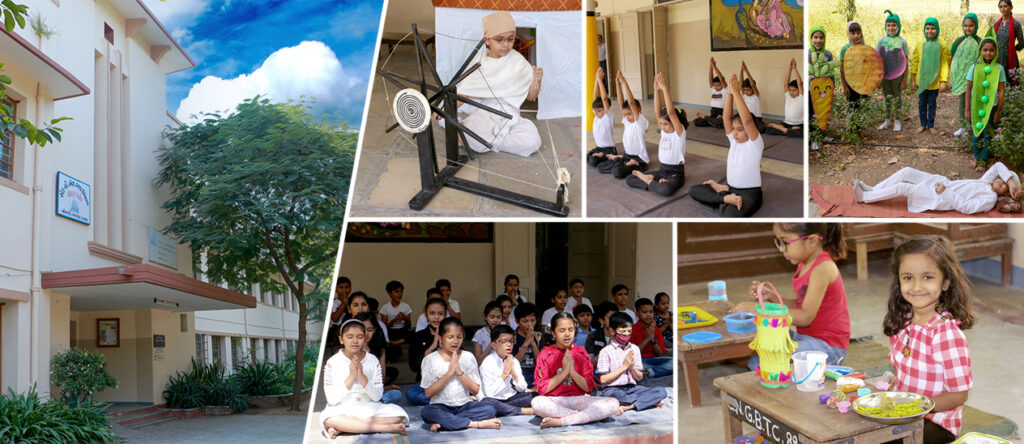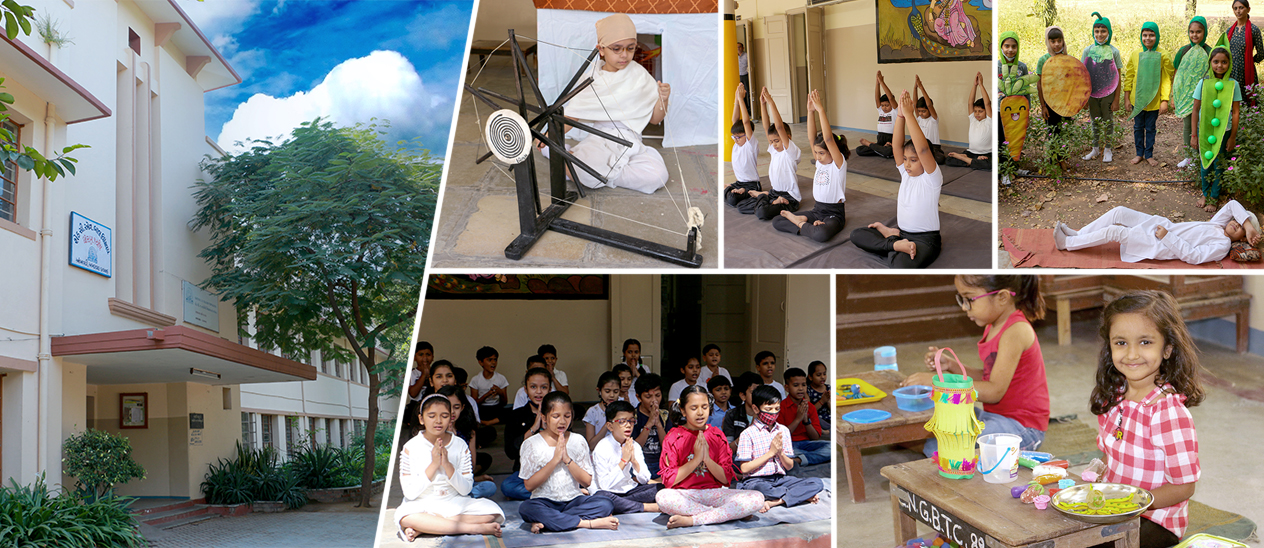 Overview
Established in 1941, this is the school where the real education of the student starts. Students from standards 1 to 5 study in this school; there are three divisions in each class. They are not only introduced to maths and grammatical concepts but also their social and cultural skills are developed.
Teaching-learning philosophy
The educational philosophy of Bal Vidyalaya is a blend of traditional and modern values. Teachers seek creative expression from the students – be it a math or a language class. In the lower standards, one teacher is assigned one class and he/she teaches the same group all through the year. Value inculcation is done in students through moral stories by the teachers. The school follows the curriculum prescribed by the Gujarat State Board Education. Once every week, students visit the library. They do guided reading of short stories and other Indian literature. Although a Gujarati medium school, the school organizes special English classes for the students. The services of two teachers have been hired for the same.
The school shares an open-door policy with parents. Needy students are given fee-waiver on the school fees. Parents are guided by the teachers at regular intervals regarding their child's progress and all-round development.
Student Life
All students lead an enriching life at the school through exposure to music and literature. The daily prayer assembly at the start of the day includes singing of songs, reading of daily news and some educational or cultural performance by the students.  Students are encouraged to bring healthy snacks to school. Fast-food items in the tiffin box are prohibited. To this extent, teachers regularly check students' lunch boxes to see what they have brought and whether they have finished. Students are exposed to drawing and art from the 1st standard; they regularly participate in national and international level drawing competitions and take home numerous prizes. The school itself conducts many art competitions like painting, mehndi, rangoli, diya painting to give a varied exposure to students. Service to the poor and needy is also ingrained in them. Once or twice in year, the school conducts joint activities with children from shelters and NGO-affiliated students in the school premises. Children donate toys and clothes for the poor and needy.
During the winter session, students are taken on a day-long picnic or excursion to nearby place. During long weekends and during Diwali and summer breaks, two or three day nature camps are also organized. Students enthusiastically participate
Adventure and Nature camps
Co-curricular Activities
Students learn maths the interactive way. An institutional collaboration with New Delhi-based Jodogyan Educational Services had done to share knowledge and adopt best practices in math education. Teachers have been trained specifically in using the material provided by Jodogyan and conduct various class-level activities around it. Children's creativity also gets expressed through clay and craft activities in the classroom. Every two years, the school organizes an exhibition-cum-fair – Bal Mela – a platform where students along with their parents can participate and showcase their creativity and entrepreneurship.