The hostels were started to give children from rural areas an opportunity of better high-school education. Once in the hostel, students are trained to live a simple and self-reliant life. They are encouraged to clean their rooms, utensils, and do their own laundry and live a harmonious community life with fellow-mates. Considering their humble backgrounds they are trained to face the challenges of life in the most positive manner. Their life at the hostel is guided by number of teachers who expose them to a variety of thought processes – in the process, strengthening their mental will to do something useful with their lives once they leave the hostel.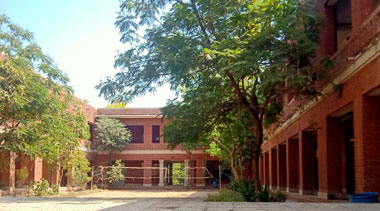 Kumar Chhatralaya
The very first institution to be established in 1912, it was aimed at providing Jain youths from the surrounding villages an accommodation in Ahmedabad. Today, with an intake of 120 boys from both Jain and non-Jain communities, C. N. boys hostel is one of the best in the state of Gujarat for school-going boys.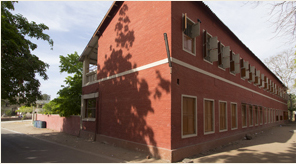 Kanya Chhatralaya
Established in 1945, with a view to focusing on girls' education, the Kanya chhatralayaa provides girls aged between 10 to 17 years with a home away from home. With an intake of 80 to 100 girls every year, the students grow up from being girls to responsible young adults. Parents put implicit trust in the management so far as managing the adolescent lives of their daughters is concerned.
Message from the Gruhmata of Kanya Chhatralaya
I have studied from 1968 to 1973 around 6 years in  Sheth C.N.Vidyalaya. Thereafter so many years, I got the opportunity to work in my alma mater as Gruhmata of Kanya Chhatralaya. I feel myself very fortunate to get this opportunity to serve my alma mater.  I consider this to be one of the most precious periods of my life.
The Gruhmata  has to fulfill the responsibility to inculcate values & develop character  for the holistic development with the care of the students just like a parent,  which I have been sincerely fulfilling since 1986; around last 36 years . I believe that Vidyavihar is my family.
We conduct all the activities like character building, discipline, value based education, students's  diet, health care, special care of weaker students, special classes for all students, sports, udyog , music at chhatralayaa for all the chhatralayaa  students. Students are also given guidance on problems regarding adolescent health. We arranged a day picnic as well as three day's trip for the chhatralayaa students. We arrange the meetings to inform the parents about the progress  of their child on regular basis.
Many students of the chhatralya have achieved reputed positions in various fields in India as well as abroad and spread the fragrance of the value based education and character building they received from Vidyavihar. When alumni visit their mother institute, reminisce the memory lane and give the credit to Vidyavihar for their success, I feel proud and satisfaction. I  Pray to God that to give me strength and good health for the rest of my life to serve Vidyavihar.
Ushabahen H. Shah
Gruhmata, Kanya Chhatralaya
The Vidyavihar, in the beginning , consisted of only a hostel for boys. An Old Boys' association was started with offices in Ahmedabad(Chiman Chhatra Sangh) & Mumbai (Chiman Chhatra Mandal).
This organization, as a token of affection and regard for the mother institution collected a sum of Rs. 63,454 from the alumni and handed it over to Indumatiben, with a promise to raise the figure to Rs. 1,11,111 in the next two years. Smt. Indumatiben put this amount in the hands of a trust named 'Vidya Vinay Mangal Nidhi Trust'. This fund is being used for awarding prizes to students for academic and co-curricular achievements.