Sheth Chimanlal Nagindas's Vision for Education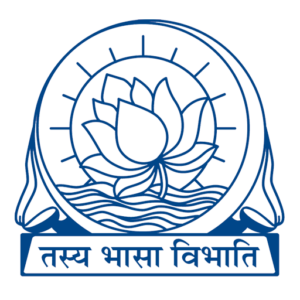 Tasya Bhasa Vibhati
The glowing light of the Brahmand radiates all around and all bright objects in the universe – the sun, the moon, stars and fire – derive their light from it.
This verse from the Kathopnishad, inscribed on C. N. Vidyavihar's emblem, inspires the students who study here to follow knowledge and wisdom in their purest form, for this alone brings illumination.
Memoir & Educational - Cultural Ideology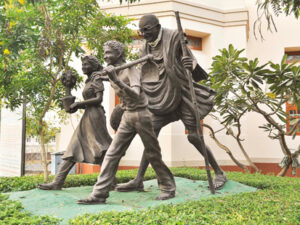 Sheth Chimanlal Nagindas Vidyavihar is popularly known as Sheth C N Vidyavihar and it is also called 'Shantiniketan' of the West India. The education philosophy of the institute is based on Gandhian values.
Sheth Chimanlal Nagindas, a 'Jain Shreshthi' of Ahmedabad, known as devotee of charity, modesty and education. He was successful businessman and also known as 'Banking Tiger' of his time. He dedicated his entire life for his love for education, humanity, patriotism, social upliftment and culture. This organization originated as the dream seed of such noble ideas. He believed that through value based education one could bring with him the welfare of the whole society besides his family. His spirit for public welfare and his purpose of realizing it was real and rare which is realized through his deeds. His motto of 'Do It Now' is still guiding, exemplary and inspiring today.
In the year 1908, he made his historic will. According to one of the provision of his will, to provide education to the needy students of surrounding villages of the Ahmedabad city, he created the trust named 'Sheth Sarabhai Maganbhai Trust Fund' in the name of his late brother Sarabhai with a noble spirit. He died within three months after making of his will. To embody Sheth Chimallal's dream, his wife Manekba started Sheth C.N. Kumar Chhatralay in 1912 with the help of his nephew Ambalal Sarabhai and other trustees. The institute has been imparting valuable education to the students since last 109 years through high character building and holistic development. In the present times of English Medium Vogue Sheth C.N. Vidyavihar has been in the forfront for education in Mother Tongue.
Padma Shri Indumatibahen Sheth, daughter of Sheth Chimanlal Nagindas, was education minister of Maharashtra and then Gujarat. She devoted her entire life to the kind of education. She did many social welfare works in association with various organizations for the upliftment of the society. Indumatibahen and 'Best Teacher' awardee by Indian Government, Principal of Vidyalaya (Secondary & Higher Secondary) Shri Jhinabhai Desai had given significant contributions in the development of Vidyavihar for more than 50 years. Today, about 4500 students are nurtured on the campus. Having received valuable education from renowned and ideal gurus of Vidyavihar, many students are successfully leading prestigious positions in various fields across the country as well as all over the globe and are shining the name of Vidyavihar. Currently Vidyavihar family is comprised of Kindergarten, Kindergarten Special Classes, Bal Vidyalaya, Balvidyalaya Special Classes, Kishore Vidyalaya, Vidyalaya (Sec. & H. Sec.), English Medium School (CBSE), Training Colleges like D.EL.Ed. College, College of Education (B.Ed. College) Art Teacher Diploma, Fine Arts College, Technical Center, Special Institutions like Computer Center, English Center, Sports Academy, Kalaniketan as well Kumar and Kanya chhatralayaa(Boys & Girls Hostel).
In the year 1938, Shri Jheenabhai Desai 'Sneharashmi' had given name 'Vidyavihar' to the entire campus. Even today, the institute is imparting education keeping pace with the current trends without deviating from its Gandhian values and lofty goals.