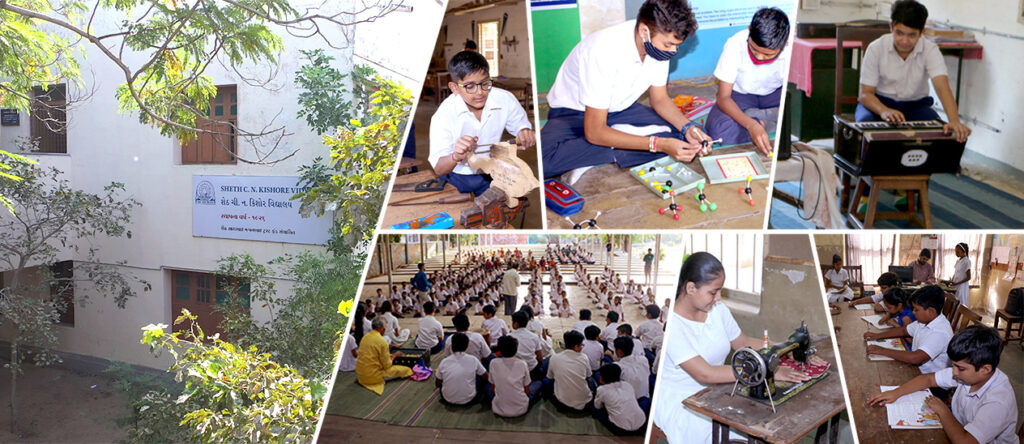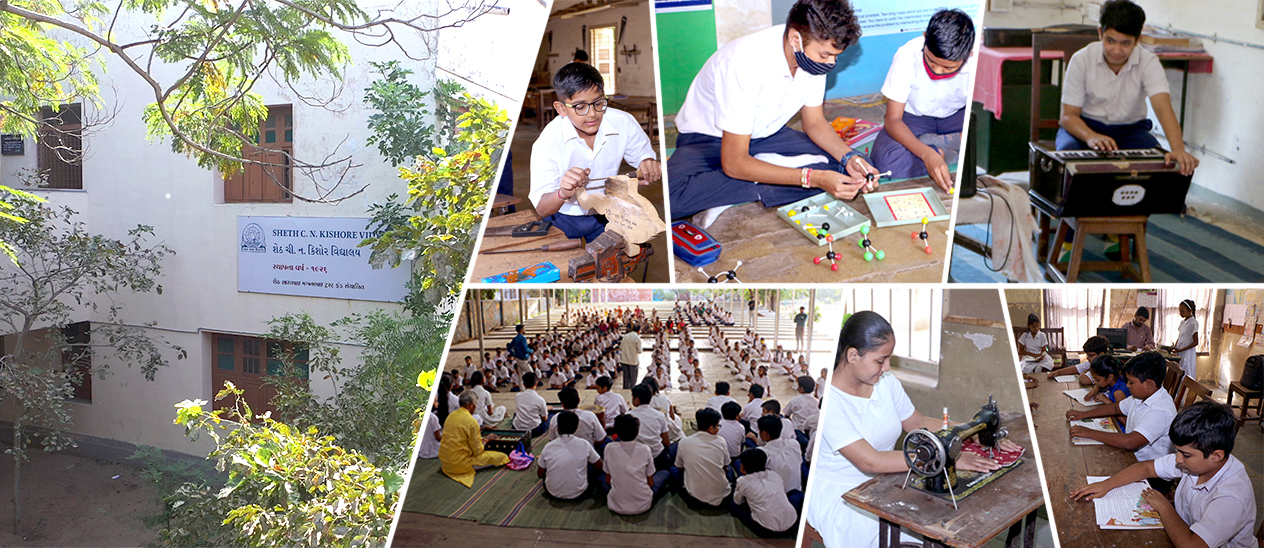 Overview
The Kishor Vidyalaya consists of class VI, VII and VIII with five divisions in each. The medium of instruction is Gujarati. It is a practicing school for the on-campus B. Ed. College – College of Education and Primary Teachers' Training College – D.EL.ED. A wide range of subjects are taught including languages – Gujarati, English, Hindi and Sanskrit and math, science, social science, Physical education, drawing, music and carpentry. It has a team of 17 teachers.
Teaching-learning Philosophy
The teaching-learning process focuses on inculcating a scientific temper and acquisition of advanced math skills in students. The students conduct different experiments in the laboratory and also develop mathematical and scientific models to showcase their knowledge, understanding and creativity.
Student Life
Students are exposed to a variety of outside-the-school experiences like inter-school competitions, national-level Olympiads and international-level examinations for different subjects. Every year about 120 students appear for the Hindi exams conducted by Gujarat Vidyapeeth. More than 200 students take an examination conducted by Gayatri Parivar which seeks to assess their knowledge about Indian traditions. About 50 students take the Macmillan examinations (in English) conducted by New South Wales University, Sydney in subjects like Maths, Science and English. More than 100 students appear for Sanskrit exams conducted by Bruhad Gujarat Parishad
Students are also encouraged to engage in social activities like distributing free blankets to poor and need during winter. Visits to Blind School and Old Age Homes. Tree plantation, reaching out to street children by distributing chocolates. These experiences seek to add to the students' sensitivity towards the others.
Institutional Collaboration
The school has tied up with the Vikram A. Sarabhai Community Science Centre to put up interactive science and math models for the students to experiment with. A variety of board games and instruments have been displayed for the students to play with.