Alumni
Who is a C.N. Alumnus ?
Any person who has graduated from any of the institution of C. N. – be it the school or the Technical Centre or the Fine Arts College is an alumnus of C. N. He/she should be holding the graduating certificate of the particular institution to qualify as an alumnus. For the school, the person must have passed either the SSC or HSC examination.
Alumni all over the world, and from every imaginable field, bear witness to the exemplary teaching and learning during their years of study at C. N. The roll call of past students contains numerous illustrious names.
Eminent C.N. Alumni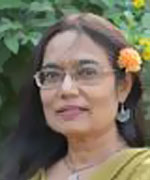 Preety Sen Gupta
World Traveler & famous Poet,
1960 Batch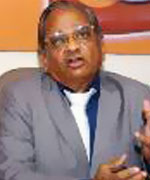 Piyush Desai
Chairman & Managing Director, Wagh Bakri Tea Group
1957 Batch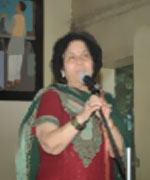 Smriti Dagur
President, Institution of Electronics & Telecommunication Engineers (India)
1965 Batch
Some Illustrious Alumni
Dhirajlal Tokarshi
Uday Chinubhai Baronet
Arvind Shah
Piyush Desai
Preety Sengupta
Nitin Shukla
Smriti Dagur
Pranav Mehta
Jayshree Mehta
Sudhir Mehta
Akil Kureshi
Pankaj Patel
Gautam Adani
Chintan Parikh
Kirit Parikh
Dilip Mavlankar
Beena Handa
Ashutosh Mavlankar
Aarti Munshi
Hemanshu Shah
Paresh Vasani
Madhav Ramanuj
Nabibaksh Mansuri
Samir Mehta
Shweta Jhaveri
I enrolled in 1984 as a student at Sheth C. N. College of Fine Arts. I still remember the amazing feeling about the campus's environment from my first day. C. N. environment helped me find myself and figure out the path I wanted to be on. The staff and classmates were amazing people with whom I built lifelong friendships. C. N. Environment supported me as my parent in my most difficult times. I always felt that some divine energy is surrounding me when I am on the campus. I still remember each and every place that filled me with positive thoughts during my study at the College. It was my home away from home. Even today, after 38 years I have the same feelings for C. N. environment which was my institute, home, friend, philosopher, guide, parent, nature and a source of divine energy. I am proud to be a student of C. N. Vidyavihar. I consider myself very lucky for also having the opportunity to work at C. N. as the Director of Sheth C. N. Computer Centre since last 19 years.
Bimal K. RavalDirector – Sheth C. N. Computer Centre
I studied at Sheth C. N. Vidyalaya from 5th to 12th Standard. I passed out from 12th Standard in the year 1993. CN gave me the best competitive environment for my studies. During our time it had the best of students and teachers. The major advantage of studying in CN was that I was exposed to various extra- curricular activities like sports, carpentry, drawing, music, drama etc. from an early age. I now realize that CN had the system to bring out the best in any student in his/her chosen field. It has given me a great education, cultural values and life-long friends. CN has shaped my life and contributed immensely in making me what I am today!
Rutvij Shah,
practicing Chartered Accountant, 7th rank in Gujarat and 3rd rank in Ahmedabad, Gujarat Higher Secondary Board Examination, 1993.
Thinking about school days is an energy booster for me; it invariably reminds me of the encouragement I received from my teachers, especially Shri Zinabhai Desai, then school Principal. I was inspired to learn new things – be it elocution, garba or solving issues democratically as a mahamantri in panchayat. Their unconditional support even when I made mistakes made me a very self-confident person. Listening to Shri Zinabhai or the guests in Prarthana Mandir, inculcated many life-long values in me. Looking back, I realize that these experiences built many beliefs like we must nurture our talents and contribute wholeheartedly to the society, which I have sublimated by becoming a Human Resource Professional. I am indebted to all my mentors.
Beena Handa,
Founder, Poiesis Achievement Foundation, Alumnus-1967-68,Mahamantri-1966-67
Securing admission in Sheth C. N. Vyayam Vidyabhavan in 1993 was god's send for me – keenly interested in Sports that I was. The Diploma in Physical Education Programme  at C. N. moulded me physically, mentally and emotionally . Initially, I found the whole regimen very tough and there were times when I thought of going back and retreat to helping my father's farming activity. Soon, I was appointed the group leader of one of the four groups; the leadership skills helped me become the youngest sarpanch of my village in 1995-96 at the age of 27 years. Today, as a Physical Education teacher at Bal Vidyalaya I am able to give to my students the genuine affection and quality skills that I acquired here.
Sukhdevsinh Vaghla,
Physical Education instructor, C. N. Bal Vidyalaya
As regards to CN, I consider myself fortunate for having attended this great institution  which helped me in reaching my highest potential.  I came to Chhatralaya in 1947  as an ordinary student from a lower middle class family, and  left the Vidyalaya in 1954 as a 'so called' scholar with the highest achievement at the SSCE Board both for me as well as for  CN Vidyalaya (I am told this record is still unbroken).  All credit for my academic accomplishment and the subsequent successful career goes to my alma Matter  Vidyavihar – a real Cultural Mother.
More important contribution of CN in my life was character building.  Vidyavihar's Gandhian spirit coupled with Sneharashmi's cultural leadership impressed upon me the civic responsibly – 'how to be a good citizen' which I still cherish. The inspiring lives of Shri Chimanbhai Sheth, Manek Baa and Indumatiben  – filled with generosity,  humility and caring,  taught me that ' extending your hand to the needy is not a charity but your social duty'.
As CN met the educational and cultural needs of the 20th century,  I hope and pray that  both Chhatralaya and Vidyalaya will dynamically transform into an institution which meets the need of the 21st century by producing  world citizens, global entrepreneurs and leaders striving for world peace.  The inauguration of the CN Vidyavihar web site is one more step in that direction.  I wish best of success in Vidyavihar's effort harnessing the ever advancing technology.
Shri Arvind Shah
I, Dr. Gaurang Chokshi  (M.s.) orthopedic., am a proud student of Sheth C. N. high school.  I  studied there from  1965 to 1971 and completed my total high school education. I have never forgotten my school days. I believe that what I am Today is only because of my school.  The C.N. school has taught me not only the Board  Courses but the culture of being honest and dedicated towards  the country and the people. I believe that c.n. teach strong athics which all students carry their entire life. I have 20 Bed Private orthopedic Hospital running Satisfactorily. I am  servicing  needy patients at a reasonable  cost. I love to serve all my teachers whenever I get the chance. I like the school  so much that I made both my kids Aakruti & Aakar study there. I am attaching the photo. Here is what I painted in 8th standard under the guidance of my painting teacher. Long live the great C. N. school!
Gaurang Chokshi 
I can proudly say that I am born and brought up in C. N. Vidyavihar because I did my schooling here and also began my professional at C. N. Vidyavihar. I am connected with the institution since 1992. It is proven that maximum growth of a human being happens during the years spent at school – both the mental and physical development is dependent on the atmosphere of school. During school, I had absolute freedom to choose activities of my liking and freedom to share innovative ideas. I can say for sure that it is only because of this school, I was able to convert my interest in music to a full-time occupation.
Rujul Shah,
music teacher Bal Vidyalaya
As lotus stands out among a bunch of flowers, a students of C. N. Vidyavihar stands out among other students. 'A journey on the path of Vidya' is the identity of a CNite. Education, harmony, character building and key to a happy life – these are the ingredients of a successful C. N. studnts. I am proud of what I have received.
Kusumben Arunbhai Shah (1952 batch)
Appeal to Alumni
We want the children of the future to gain as much, perhaps even more, than the alumni. For this the institutions need to develop in a balanced way, keeping up with change and yet never losing sight of the core values. Funds that help us realise these goals are very welcome.
It is with this vision that the Trust has sought its donations to be exempted under Section 80 (G) of the Income Tax Act and is also registered under the Foreign Contribution Regulation Act (FCRA) which enables it to receive foreign funding. We are hopeful that this will help us garner wide-ranging support from our illustrious alumni.
For Details contact
Hetal Mehta
Alumni Relations Officer
Email:  alumnirelations@cnvidyavihar.edu.in
The Projects for which funds invited are:
| | | |
| --- | --- | --- |
| Sr. No. | Name of the Project | Estimated Budget (In Cr.) |
| 1 | Class Rooms Upgradation with Technology based facilities | 1.00 |
| 2 | Development of Smruti Kendra including Cafeteria | 1.00 |
| 3 | Learning Resource Centre | 1.00 |
| 4 | Renovation of   Roads & Lights | 2.00 |
| 5 | Technical Centre Renovation &Upgradation | 4.00 |
| 6 | Upgradation of facilities of Kumar – KanyaChhatralaya | 5.00 |
| | Total Amt. | 14.00 |
Tax Exemption and Bank Details  to Donate Vidyavihar
Three ways to donate C.N.Vidyavihar
To donate directly to C.N.Vidyavihar in India

(Eligible to get the tax deduction in India by getting 80(G) certificate & receipt for the donation will be provided by C.N.Vidyavihar)
Local Cheque should be written in favour of  'Sheth Sarabhai Maganbhai Trust Fund –Development Account'
Bank Detail: State Bank of India , Polytechnic, Opp.Ketav Petrol Pump, Dr. Vikram Sarabhai Marg Ahmedabad – 380015
IFS Code SBIN0001043
A/C No. 31178052740
---
To donate directly to C.N.Vidyavihar with help of following FCRA details. (From Abroad)
C.N.Vidyavihar is registered under the Foreign Contribution Regulation Act (FCRA)2010.
Our FCRA Details:
FCRA No: 041910412
Cheque Should be written in favour of  'Sheth Sarabhai Maganbhai Trust Fund'
Bank Name – State Bank of India New Delhi Main Branch,FCRA Cell, 4th floor,
11, Sansad Marg, New Delhi – 110001
Branch Code – 00691
Account No. 40181013242 (FCRA Savings Account)
IFSC: SBIN0000691
Swift Code –SBININBB104
---
To donate through Ratna Global Foundation – USA
(Eligible to get the tax deduction benefit in USA)
For the Diaspora in USA, Ratna Global Foundation – which is managed by one of our active alumni Shri Arvind Shah and has very transparent operations, has offered its services so that the donors in USA can donate and get tax deductions. For each donation you will get an official receipt with an IRS tax ID and an acknowledgement from the CN ARO. Earlier we have received positive support from Ratna Global Foundation in our fund raising efforts.
For further details you can contact Mr. Arvind Shah on arvind.shah@ratnaglobal.org
Arvind Shah
Ratna Global Foundation
218 Oak Creek Circle Easr
Windsor, NJ 08520
www.ratnaglobal.org
Contact Us
Director
Sheth C. N. Vidyavihar, Dr. Vikram Sarabhai Marg, Ambawadi, Ahmedabad-6
Phone: 079-26463511, 079-26463696
E-mail: cndirectorsoffice@cnvidyavihar.edu.in
Website: www.cnvidyavihar.edu.in
Dr. Vaishali Shah, Director
Sheth C.N.Vidyavihar