The master plan of C. N. campus and individual buildings are true material reflection of educational philosophy of CN. Most of the buildings have tight perimeter with large-all weather courtyards. Semi-open corridors and shaded areas function as gathering places, imbibing community living and represent blurring boundaries between outdoor and indoor. Formal arrangement of classrooms next to long corridors represents expectation of discipline from students and teachers.  Low-rise building structures stand harmoniously along with the carefully planted trees reflecting the free-spirit of Vidyavihar.
The Prarthana Mandir is like the sanctum sanctorum of the campus. The daily prayer assembly takes place in this semi-open space where most of the invited dignitaries interact with the students. It can seat about 1500 students at one time.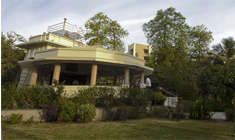 The derasar (a place of worship for Jains), located at the entrance of the campus, was constructed in 1959 from the personal resources of Smt. Manekba. The idols of Bhagwan Mahavir, Bhagwan Parshvanath and Bhagewan Adishwar are installed in the sanctum sanctorum which are made from white marble. It is mandatory for Chhatralaya students to offer prayer at the derasar. About 200 families from the neighbourhood also offer prayer daily at the shrine. There are two fountains nearby and the lilies in the pool are a feats to the eyes. The garden urrounding the derasar has a variety of trees, including an Asoka tree. The flowering plants at the entrance of the derasar add to its aesthetic beauty. The foundation day of the derasar is celebrated every year by the devotees with religious fervor.